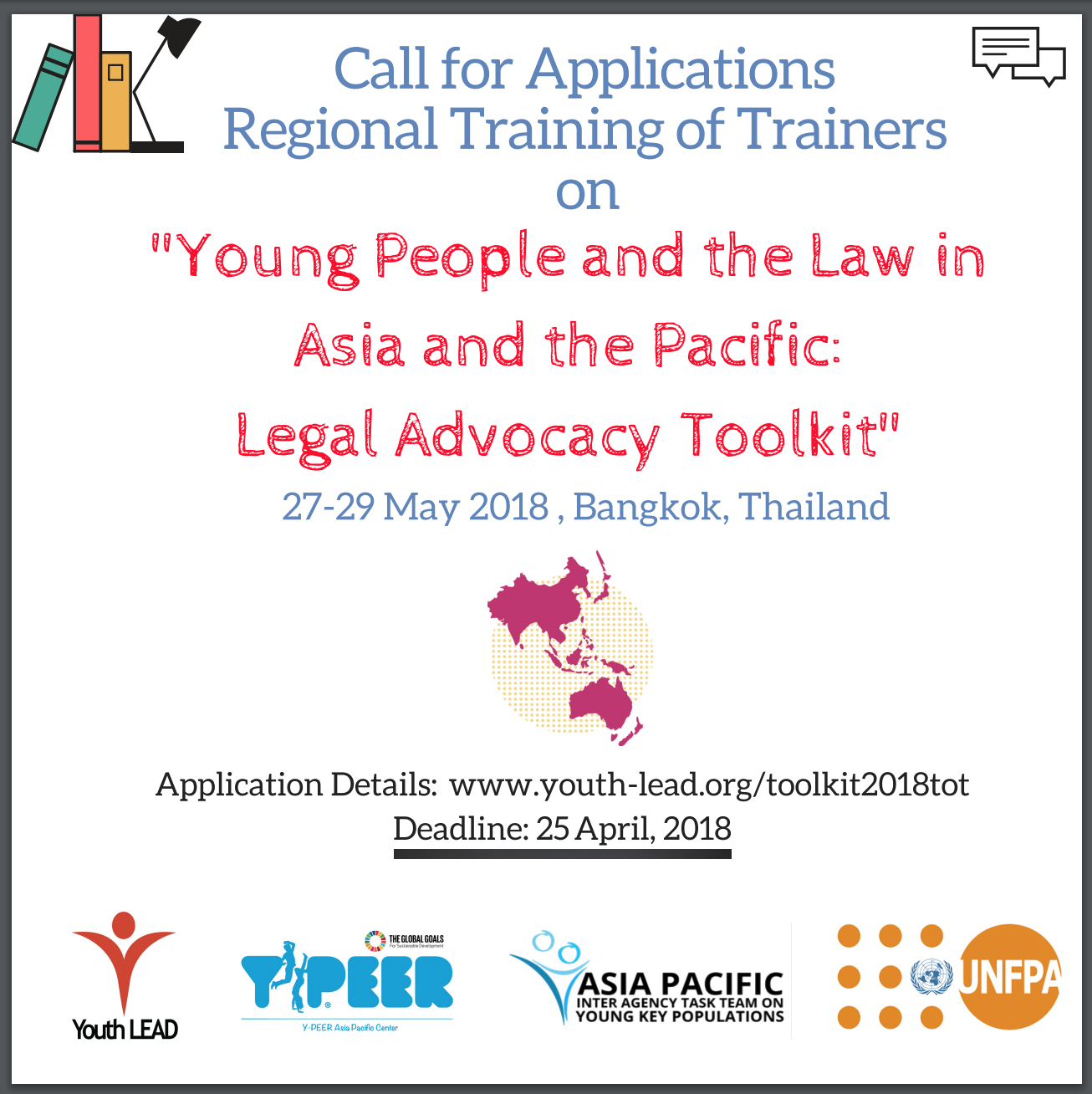 Call for Applications: Legal Advocacy ToT
May 27, 2018

-

May 29, 2018
In 2018, Youth LEAD will conduct the Regional Training of Trainers on the Legal Advocacy Toolkit in Bangkok from May 27-29 with financial support from UNFPA APRO.
Objective of the training
The training based on the 'Legal Advocacy Toolkit' is intended to build an understanding of the legal and policy environment, and the effects that laws and policies have on young people's SRH, to uncover avenues for advocacy and subsequently address these identified barriers. It looks at both local and international advocacy, with a focus on using international human rights.
[1] UNESCO, UNFPA, UNAIDS, UNDP and Youth LEAD. 2013 Young People and the Law in Asia and the Pacific: A review of laws and policies affecting young people's access to sexual and reproductive health and HIV services. Bangkok: UNESCO: https://apiattykp.files.wordpress.com/2015/08/224782e.pdf
The target participants
Young Key Populations and young advocates of sexual reproductive health and rights from Asia Pacific Region.
Qualifications and criteria
18-27 years (Born between April 01,1991 – April 01,2018)
2-3 years of experience on advocacy and capacity development on HIV and SRHR
1-2 year's experience on legal advocacy and human rights
Affiliated to YKP-led and youth-led organization, including YKP and youth serving organization.
Committed to the issues of legal and human rights of YKP and young people
Affiliation to Youth LEAD and Y-PEER is an additional asset
Process of Application
Please send the following documents to info@youth-lead.org by 18:00 on the 25th April 2018 (GMT+7) with subject line 'Your Country Name _ Legal ToT _ Your Name'
Make sure to also include these documents to the email:
Updated CV and contact details
A photocopy/scanned front page of your passport
A cover letter that mentions your interest, organization/institution/group you represent and your role within that organization/institution/group
Selection of the Participants
Successful participants will be notified by the 10th May 2018.
Questions regarding the application
If you have any questions regarding the application or the Legal Advocacy Toolkit, please email before 22 April 2018 to info@youth-lead.org, subject line 'Question_ Legal TOT.'
Download: Call for Legal Advocacy TOT V1.