Other Resources
I-JUST-WANT-BASIC-THINGS-WE-ARE-NOT-THERE-YET_LGBT-needs-assessment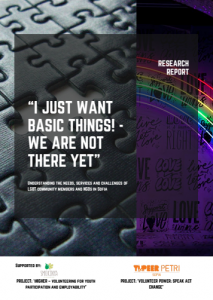 The European Voluntary Service (EVS) volunteers, Viktorija Bondikjova from North Macedonia (hosted by Y-PEER PETRI – Sofia) and Carmen Rivas from Spain (hosted by Smokinya Foundation) conducted a qualitative community-based research as part of their personal project within the EVS program in their hosting organizations. This research report is part of the local needs assessment which aimed to understand the needs, services and challenges of LGBT community members and NGOs in Sofia, Bulgaria. The final event for promotion of the findings was held on July 18th in Dada Cultural Bar and it was attended by around 40 people.
Why did we decide to conduct this LGBT needs assessment? 
Due to the lack of research background on LGBT needs and rights in Bulgaria, as well as insufficient funding to implement research projects on this matter, we conducted this local needs assessment to provide critical information about LGBT community needs as identified by them and by the NGOs working with them. The aim of this project is the increase the knowledge and raise the awareness of the critical issues which affect the LGBT community, and contribute to more mobilized and organized LGBT community. The goal of this needs assessment project is to offer possible ideas on how to improve the situation of the LGBT community in Bulgaria in different areas of life, such as law, health, education, media and community organizing, and explore ways to address LGBT peoples' and NGOs needs.
We are tremendously grateful to Y-PEER PETRI – Sofia and Smokinya Foundation for supporting the research report and to the Rainbow Hub for their collaboration during the entire research process.
The PDF version of the report is attached below.
If you have any questions, you can always contact the authors:
Viktorija Bondikjova at viktorijabon@gmail.com
Carmen Rivas at carmenjoserivas@gmail.com
We hope you enjoy reading the content! 🙂