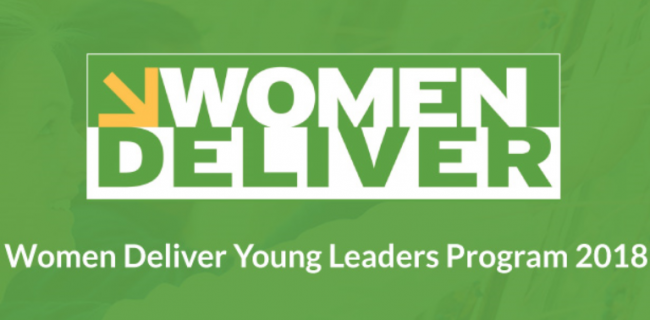 The Women Deliver Young Leaders Program 2018: Deadline
The Women Deliver Young Leaders Program trains, elevates, and empowers youth advocates to catalyze action for gender equality and the health, rights, and wellbeing of girls and women — with particular emphasis on sexual and reproductive health and rights and meaningful youth engagement. The program provides youth advocates with the training and resources necessary to extend their influence and actively shape the programs and policies that affect their lives. Started in 2010, the award-winning Women Deliver Young Leaders Program is comprised of 400 youth advocates from more than 100 countries, with 300 more scheduled to join in early 2018.
The Women Deliver Young Leaders Program provides youth advocates with opportunities to build and strengthen their advocacy capacity and skills. 

Click here 

to learn more about these opportunities—including Women Deliver's Young Leaders Program Digital University, Speakers Bureau, small grants, sponsorship to the Women Deliver 2019 Conference, and more. Women Deliver Young Leaders also gain:
Global visibility as champions for the health, rights, and wellbeing of girls and women.

Networking opportunities with high-level decision-makers, stakeholders, media, private sector representatives, and other change-makers, including other youth advocates and activists working around the world.

Upon successful completion of the program, membership in the Women Deliver Young Leaders global alumni network for continued learning, networking, and support.
The application process for all young people interested in becoming a member of the 2018 Class of Women Deliver Young Leaders opens on International Youth Day, August 12, 2017. The deadline for submission of all application materials is October 13, 2017. Please note that only fully completed applications are considered.
The 2018 Class of Women Deliver Young Leaders participate in a two-year program, beginning in January 2018 and ending in December 2019, after which engagement through the network of Women Deliver Young Leaders alumni network is possible.
Individuals between the ages of 15 and 28 can apply. Applicants must have been born between December 31, 1989 and December 31, 2002; this is to ensure Women Deliver Young Leaders are under the age of 30 for the duration of the program. All young people, regardless of gender, race, ethnicity, disability, sexual orientation, gender identity or expression, or national origin are encouraged and welcome to apply.
Please note that applicants must speak, write, and read English with proficiency and have regular access to the internet. Completion of the Women Deliver Young Leaders Program requires submission of regular online status updates to Women Deliver and completion of the Digital University courses, a rigorous online capacity building and strengthening curriculum that will require reading of academic texts, writing short responses to assessment questions, and actively participating in discussion groups. All communications and Digital University content are in English.