Youthopia Activist Camp 2019 – Berlin
July 21, 2019

-

July 31, 2019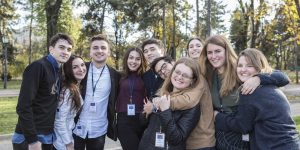 Be part of the Youthopia Activist Camp 2019 in Berlin!
30 young utopists and activists from all over the world, as well as 30 youngsters from Berlin, come together at the intercultural Youthopia Activist Camp 2019 to work on realizing our utopia of democracy, sustainability, and universal equality.
The goal is to provide you with the right tools for social and political change – peer-to-peer – so you can realize them in your community and mobilize more young people for the cause. In international teams, guided by other activists and inspired by successful initiatives, you will develop 10 tangible, innovative projects that will get you closer to your utopia for a democratic, sustainable and socially just future.
What are the benefits from your participation? 
Accommodation, food and transportation during the 10 days will be covered;
Get the tools to form your ideas for change into planning to realize it;
Learn about sustainable lifestyle and how to spread it;
The opportunity to become connected with young utopists and activists from all over the world;
Get to know the Berlin lifestyle by living with a Berliner delegate;
If you're Berlin-based: get to live with an international roomie for 10 days and experience cultural diversity on all levels.
….And last but not least be part of the international youth movement.
Who is eligible to apply?
18-28 years old;
Fluent in English, to be an active part of an international youth movement;
People from all social backgrounds are encouraged to apply, no matter if you are working, in a formation, studying or just taking a gap year – as long as you have a utopia for a more sustainable, democratic or social just society;
All nationalities are happily accepted, regardless ethnicities, gender, sexuality or any other background. We feel united in diversity!
How to apply?
In order to apply, you should fill in the application form on the following link: https://de.surveymonkey.com/r/H3K6KMJ. The deadline for submitting the application form is 10th April (for international participants)/10th May (for local participants).More information is available on the official website: https://youthopia.de/?page_id=136&fbclid=IwAR2hRxrNH7F6qj6Mix2qIgv8Dj8ub0yhBUqhJqAuQH9wt2OuVbhxqz5zbJg.
Who are Youthopia e.V.?
Youthopia e.V. is an NGO that was founded by young activists from Berlin to create a platform for more youth participation, in order to have a louder voice together as a youth to ignite change and promote democracy, sustainability and equality.We ignite a youth movement that everyone can be part of and learn how to mobilize people for change, to give Youthopians the tools they need to realize their Utopias.We are taking the future into our own hands. The youth does not only want to be represented, we want to be present!
*Visa/ travel support: If you have extraordinarily high travel or Visa expenses, you can apply for a partial scholarship by Youthopia e.V. Please consider carefully you neediness compared to other applicants, as we can only support a number of participants.
Nevertheless, please don't hesitate to apply, we don't want financial reasons to stand in the way of your participation in Youthopia Activist Camp 2019!
We wish you success in the application process! 🙂