Contact Making Event "No One's Left OUT" – Latvia
March 31, 2019

-

April 7, 2019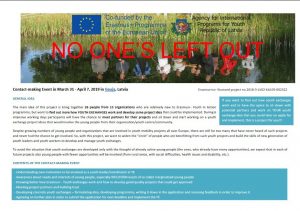 This project will bring together 26 people from 12 countries who are relatively new to Erasmus+ programme, but want to find out more how youth exchanges work and develop some project idea that could be implemented. During 6 intensive working days participants will have the chance to meet partners for their projects and sit down and start working on a youth exchange project ideas that would involve the young people from their organization/youth centre/community.
Despite growing numbers of young people and organizations that are involved in youth mobility projects all over Europe, there are still far too many that have never heard of such projects and never had the chance to get involved. So, with this project, we want to widen the "circle" of people who are benefiting from such youth projects and build the skills of new generation of youth leaders and youth workers to develop and manage youth exchanges.
To avoid the situation that youth exchanges are developed only with the thought of already active young people (the ones, who already have many opportunities), we expect that in each of future projects also young people with fewer opportunities will be involved (from rural areas, with social difficulties, health issues and disability, etc.).
Who should apply?
All young people (18-30 years old) who:
– Are currently involved in working with young people (on volunteer basis, or as professionals) in some youth organizations, youth centers, schools or other institutions that provide youth work, social work or extra curricular activities;
– Are interested to get involved in youth work even more by taking responsibility of developing a YE and becoming a host or group leader;
– Are well connected with actual young people in local communities/above mentioned organizations – including also young people that are currently marginalized and motivated to develop projects that include young people who are usually not that privileged;
– Have experience in some E+ project as participants (YE, or some training);
– Are ready to actively participate in the whole project (preparation, CME and have time to implement YE as a follow-up in autumn '19 or winter '19 or '20);
– Are fluent in communication in English;
– Are coming from Bulgaria, Croatia, Czech Republic, Denmark, Former Yugoslav Republic of Macedonia, Greece, Italy, Latvia, Poland, Romania, Slovak Republic, or Spain.
How to apply? 
If you match the description above, please fill in and submit this application form: https://docs.google.com/forms/d/e/1FAIpQLScd1dIJ64lKZcOqKuPcPOcETkoDK2SY0WKkeNi2p110IdHr9w/viewform by 30th January 2019. 
What are the participation fees?
No participation fee will be charged. All organisational costs will be covered by ERASMUS+ programme. The accommodation, 3 meals a day and coffee breaks will be covered fully by ERASMUS+ programme. Training and sleeping will take place at the guesthouse "Zvīguļi" near a small village Gauja (https://docs.google.com/document/d/1eBgGcddjexTuCdI4Fjxbf05WW4yDY5QDtuSsJPF54eA). Participants will share rooms of 2-5 beds (some with separate shower/bathroom, while some will have to share it with others). Free Wi-Fi will be available, but if you already have a mobile data plan from another EU/EFTA country mobile operator – you can use it in Latvia without additional roaming charges. Your travel costs will be transferred fully in EUR currency to your bank account as soon as you have submitted all the tickets, boarding passes, invoices and receipts. But please don't exceed these limits for your country:
– Poland, Bulgaria, Czechia, Denmark, Macedonia, Romania, Slovakia, Croatia – all have limit 275€, Greece, Sardinia, Valencia – reimbursement up to 360€;
– Latvia: reimbursement up to 20€ per participant.
Inquiries about this training course, please contact Reinis Berzins at reinis.berzins@gmail.com.
We wish you success in the application process!