Global Peace Summit – Johannesburg, South Africa
April 19, 2019

-

April 20, 2019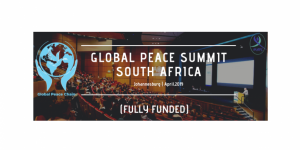 Global Peace Chain (A Project of MAPS) envisions to build resilience, cultivate the culture of tolerance, inclusivity, interfaith harmony,co-existence, love & social peacebuilding across the border through peace camps in educational institutions, interactive sessions, peace talks with society stakeholders, diplomats, ambassadors, influential community groups,UN officials, religious scholars and community based organization across the globe by engaging Global Peace Ambassadors.
Global Peace Summit is a platform where young peacebuilders will gather across the world and share their thoughts for the concept on #PeaceByDialouge. GPS is providing an opportunity to extraordinary young, competent, enthusiastic and peacebuilders from 50+ countries where they can excel their ideas and get a specific road map to attain sustainable development by receiving technical support.This summit aims to connect inspiring young people, build their capacity on peace education, exchange their ideas, share projects, liasoning with a like-minded individual, engagement of international community and world leaders.
Who should apply?
The Summit is open to individuals who are:
Between 16-35 of age;
Passionate to achieve United Nations Sustainable Development Goals;
Open minded, highly motivated and passionate;
Students, young professionals from all regions are encouraged to apply.
How to apply?
In order to apply, please fill in the online application form: https://docs.google.com/forms/d/e/1FAIpQLSeCKEiLWdi-4VoZ-jYlMLbXyg0IfhOTQV9Gv0GQE-C7eUmCqg/viewform. The deadline for submitting the application form is 28th February 2019!
What are the benefits from your participation?
Airfare & Accommodation (Funded);
Opportunity to interact with Global Leaders;
Meet with like-minded young social entrepreneurs;
Share your initiatives with others;
Peace Education & Leadership Capacity Building;
Panel discussion;
Key note speeches;
Focused group discussions;
Group activities;
Signatory campaign;
Cultural Presentation;
Gala Night;
Site visit.
If you have any inquiries, please send an email to programmeofficergpc@gmail.com. 
We wish you success in the application process! 🙂