Training Course – My Art and Your Rights – International training course for young leaders with artistic competencies – Italy
March 25, 2019

-

March 31, 2019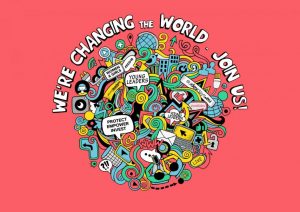 The training course, the first step of one year project, is a capacity building of youth leaders living in Europe to raise awareness on human rights among young people through non-formal HRE using art methodologies.
The training course "My Art and Your Rights" is the first activity of one year project, applicants to the training should commit their participation to the whole project. It is an international activity among 20 youth leaders coming from 10 countries and different sending organizations. The participants will receive a training on non-formal educational methodology, based on the learning by doing concept. They will be facilitated to find new ways to share human rights through art, and specifically, they will be supported to find a way to provide HRE to children and youth through their art. There will be also space offered for sharing of current practices related to their artistic activities and how and how much are transferring social concepts.
The objectives of this training course are:
-Sharing of good practices among youth leaders related to artistic activities that transfer, express and raise awareness on human rights;
-Improve the skills of youth leaders with artistic background to use non-formal educational methodology;
-Support youth leaders to develop their own practice and methodology to realize HRE through art with young people.
As a result of the training, the youth leaders will have increased competencies in non-formal education and the use of art for HRE.
Who should apply?
The training course is addressed to 20 young leaders from 10 organizations of 10 different countries, 75% of them under 30 years old (based on the rules of the funding institution European Youth Foundation).
Criteria for the selection:
– being actively involved in one organization in his/her country;
– strong skills in one or more disciplines of art;
– having strong interest to advocate for and raise awareness on human rights;
– having the interest to facilitate human rights educational activities through art for young people;
– committing to fully participate to the 2nd and 3rd phase of the project.
How to apply?
You can find more information about the application process on the following link: http://abroadship.org/training-course-my-art-and-your-rights-international-training-course-for-young-leaders-with-artistic-competencies-palermo-italy/. The deadline for submitting the application form is 4th February 2019 (only 4 DAYS LEFT!), so hurry up with your application!
What are the participation fees?
The selected participants should pay a fee to CEIPES in an amount of 50€. Being selected for the project, food and accommodation will be covered for the entire project 100%. The project is funded by Council of Europe for 2/3 of its budget. Travel reimbursements – the project will reimburse 2/3 of total travel expenses (maximum expenses for travel is 300€).
If you have any inquiries about this training course, please contact Irene Capozzi at mobility@ceipes.org.
Good luck in the application process & be reminded of the deadline (February 4th)! 🙂