Call for Graphic Designers for Y-PEER News Bulletin January-June 2018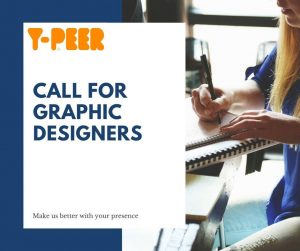 Are you a Graphic designer and interested in getting more experience and more involved with the Y-PEER Network? Are you enthusiastic and willing to be more informed and helpful to the community and Y-PEER? Do you want to get to know other Y-PEERians from all over the world and make your ideas realized? Then this opportunity is for you!
Y-PEER PETRI Sofia is delighted to announce a call for Volunteer Graphic designers for the Y-PEER News Bulletin January-June 2018
The News Bulletin has the purpose of enabling network members and active Y-PEERians to get acquainted and informed about various seminars, workshops, events and activities taking place within their own countries, along with those occurring within their geographical region and beyond. Furthermore is a better opportunity for the community members to find out more about each Y-PEER country activities. You can find the previous issue of the newsletter here
– Graphic designers will attend a few Skype meetings with the editors to clarify the general vision and structure of the upcoming news bulletin. (The Skype meetings can be in English, Arabic, Bulgarian and Macedonian).
– Graphic designers will use images to communicate information and ideas related to the latest Y-PEER activities and will assist the editor in creation of visual and pictorial design of News Bulletin;
– Graphic designers will also produce rough sketches or computer visuals to show the editorial team, use computer software to prepare designs, produce a final layout with exact specifications for typefaces, letter size and colors;
– Graphic designers will receive a certificate from the Y-PEER international network and the International Institute for Youth Development PETRI-Sofia for their contribution.
Interested Volunteer designers who want to join the PETRI team to create the new Y-PEER News Bulletin for the period January-June 2018 should send us an email to ( petri.bulgaria@gmail.com ) with a few examples of products designed by them by the 12th of August, 2018.