Internship 2018 at The World Health Organization
Intern - Speechwriter, Outreach and Advocacy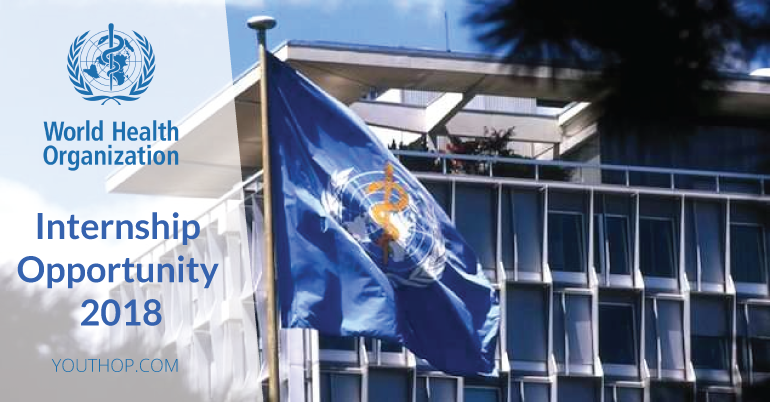 WHO's Speechwriter intern is responsible for developing high-impact communications for the WHO Country Representative (WR). This internship requires strategic thinking with the ability to deliver consistently high quality, well-written, thought-provoking materials under pressure and tight deadlines.
 Benefits
Working with different people and gaining knowledge & experience.
There's a huge opportunity to work for an international organization.
 Eligibilities
WHO Internships are not paid. Living abroad is expensive. All intern candidates should be aware of these factors before they consider applying for a WHO Internship.
Qualified/suitable intern from the field of journalism, communications, sustainable development, social science, international relations or related field with the following academic qualifications: (a) enrolled in a graduate school programme (second university degree or equivalent, or higher); (b) enrolled in the final academic year of a first university degree (minimum Bachelor's level or equivalent); graduated with a university degree as defined in (a) and (b) above and, if selected, must start the internship within one-year after the graduation.
Excellent general understanding of public health, gender, equity and other related issues;
Experience working collaboratively in a team structure in a multicultural environment;
Experience working with the Microsoft Office suite, and particularly in development of Powerpoint presentation materials;
Familiarity with the UN system in general and/or WHO in particular is an asset.
Proficiency in English;
Knowledge of one of the other five official languages of the UN (French, Portuguese and Spanish) would be an asset.
Eligible Regions: Open for all