Apply for SI Leader Lab: Connecting advocates of gender equality – Sweden
September 1, 2019

-

May 31, 2020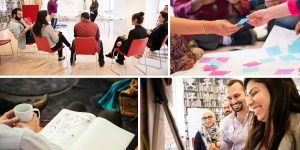 Are you a civil society leader in South Asia or the MENA region? Are you working for a more gender equal world? SI Leader Lab is a programme for advocates of gender equality who wish to grow in their role while exploring new tools and forms for collaboration.
Apply to SI Leader Lab if you want to grow as a leader, develop your advocacy skills and share knowledge in a network of inspirational peers!
SI Leader Lab 2019 will bring together 60 young influential civil society leaders in South Asia, the MENA region and Sweden who are active advocates of gender equality. The overarching objective is to strengthen leaders who are working for peaceful and inclusive societies. The programme is an opportunity for you to develop your advocacy skills and work on strategic outreach within your focus area. It's also an opportunity to grow as a leader, exchange experiences, form new connections and to try out innovative tools and methods with peers working in a similar context.
SI Leader Lab is a blended learning programme that runs over eight months, mixing online meetings with two separate assemblies in Sweden. Work in smaller learning groups based on region and thematic focus will be combined with sessions that include all participants. The training is founded on experience-based and collaborative learning and will allow you to explore real challenges and areas of development for your own organisation in an innovative and supportive environment.
What are the benefits from your participation?
Personal insights as a leader: how to lead yourself and others through increased self-awareness and increased understanding of group development.
An opportunity to explore effective advocacy methods that will help you shape and reach out with a message to intended audiences.
The possibility to share and build knowledge in a network of experts, to inspire each other and share experiences on common challenges.
Insights on how to expand your networks – and how to use networks as support in your work.
Who can apply?
You can apply to SI Leader Lab if you:
Have a leading position (formal or informal) in a civil society organisation or network working for gender equality.
Work in a collaborative setting, where you have a leadership role (formal or informal).
Are between 22 and 32 years old (born 1987–1997).
Have a good working knowledge of both written and spoken English.
Are a citizen of Algeria, Afghanistan, Bangladesh, Egypt, India, Iraq, Jordan, Lebanon, Libya, Morocco, Nepal, Pakistan, Palestine, Sri Lanka, Syria, Tunisia or Yemen.
Are available to take part in all parts of the programme.
Are prepared to forward competences and knowledge you gain from the programme to your team, organisation or other relevant actors.
Please note that we are not able to make any exceptions to the eligibility requirements.
How to apply?
Only applicants who have submitted a complete application will be considered for the programme. These are the steps in the application process:
Download and fill out the  Leader Lab application form;
Go to the application portal;
Upload the completed application form in English;
Upload an updated CV in English;
Upload a letter of recommendation*;
Upload a photo (not compulsory).
The deadline for submitting the application form is 7th May 2019!
What are the participation costs?
This programme is fully funded, which means that these costs are covered and arranged by Swedish Institute:
Training and content;
Accommodation, food and domestic transport during the programme;
Flight tickets to and from module 1 and 3 in Sweden;
Insurance covering acute illness and accident when in Sweden;
Visa costs.
You can find more information about the programme timeline and the application process on the following link: https://si.se/en/apply/leadership-programmes/leaderlab/#overview.
If you have any inquiries about the programme, please send your questions to leaderlab@si.se.
We wish you success in the application process! 🙂