THE NOW-US! Awards 2019 – for organizations/initatives working on inclusion and diversity
October 7, 2019

-

October 12, 2019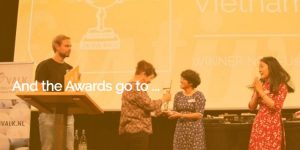 What is THE NOW-US award competition about?
It's that time of the year again! In its second edition, The Spindle organises the NOW-Us! (NOthing about us Without Us) Award which honours inclusive initiatives from Africa and Asia, triggering empowerment of otherwise excluded groups. This award is a partnership between Partos, The Spindle and Voice to celebrate inclusion as part of the Annual Partos Innovation Festival.
Who is eligible to apply?
The NOW-Us! Award accepts initiatives from organizations that are led by, and have been fully developed by, the groups or communities themselves to promote their inclusion in society. In particular, these initiatives should promote one or more of the following themes:
Improved access to (productive) resources (finance, land and water) and employment;
Improved access to social services, health and education in particular;
Spaces for political participation.
What are the benefits?
The 10 shortlisted initiatives win a 5-day trip for 2 persons to the Netherlands to participate in the NOW-Us! Innovation boot camp from 7-12 October (travel expenses and stay are covered by the NOW-Us! Award). Per team, we have a place in the NOW-Us! week for one of each gender;
The 10 shortlisted initiatives win tickets to the Partos Innovation festival, where their projects are celebrated and they can connect with other like-minded organisations and make their voices heard in international development conversations on inclusion. Nothing about us, without us! in action;
The numbers 1, 2 and 3 win a Voice grant (worth EUR 25.000, EUR  15.000, and EUR 10.000, respectively) to take home the lessons learned of the NOW-Us! week and implement the proposed initiative.
How to apply?
In order to be considered for an award, you must fill in the application form available on this link: https://app.smartsheet.com/b/form/4de1e318b9434c8d96b35e2172655844. The deadline for submitting the application form is 30th June 2019!
You can read more on the official website: https://thespindle.org/nowus2019/
We wish you success in the application process!