Training Course – The Thorvald Stoltenberg Seminar at Utøya – Norway
June 12, 2019

-

June 17, 2019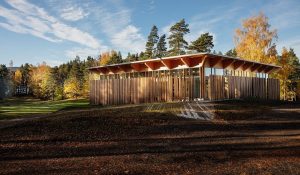 "Most people believe that individuals who shy away from conflict are poor leaders. But I say, when you meet a person who tries to avoid conflict in order to solve a problem, keep that person, because we need them, they are not so many." – Thorvald Stoltenberg
In cooperation with Utøya, EWC will organize the first Thorvald Stoltenberg seminar from June 12th – June 17th 2019, at Utøya island. Youth workers and youth leaders from across Europe are invited to a training course to support and promote ongoing initiatives in Europe to foster co-existence, trust and dialogue among young people in diverse societies.
Through the training course participants will:
exchange experiences and discuss opportunities and challenges that arise in culturally diverse societies that are influenced by migration or that have national minorities;
explore how stereotypes, prejudices, discrimination and historical injustices function in order to find the most efficient ways to challenge them;
be introduced to concrete tools to combat discrimination, facilitate intercultural dialogue and promote inclusion in order to prevent conflicts in their local and national contexts.
The seminar will last for 4 days (arrival June 12th / departure June 17th), and bring together approximately 30 youth leaders from all over Europe, who are selected through an open call for participants. It will be facilitated by international experts with extensive experience in education for human rights, democratic citizenship and intercultural understanding.
Organizers
The European Wergeland Centre (EWC) is a resource centre on education for democratic citizenship, human rights and intercultural understanding. Established in 2008 by the Council Of Europe (CoE) and Norway, it's mandate is to support member states implement CoE policies in practice. The Centre designs and offers trainings and educational programmes to educational professionals and civil society actors across Europe. EWC is a partner of Utøya and the 22. July Center on educational programmes on 22. July, democratic citizenship and human rights. www.theewc.org
Utøya is an open and accessible arena for commemoration, learning and engagement. It is the site of the terror attack on 22 July 2011. As part of the rebuilding of Utøya the new memorial- and learning center, Hegnhuset, was completed during the summer of 2016. The learning center offers a unique opportunity for young people to reflect on what democracy means for them, what challenges and threatens it, as well as how they as active citizens can promote democracy in their everyday lives. Utøya is managed through Utøya AS. www.utoya.no .The EWC and Utøya have facilitated several workshops since the opening of Hegnhuset in 2016.
Who can apply? 
The organization is looking for youth leaders primarily between the age of 18 – 30 who:
are involved in activities promoting diversity and intercultural understanding;
wish to develop competences and work with practical educational tools;
are committed to organize activities to engage others in intercultural dialogue after completing the training.
How to apply?
In order to apply, you should fill in the application form available on this link: https://theewc.wufoo.com/forms/r517paw16mop8c/. The deadline for submitting the application form is 1st April, so do not miss the chance! More information about the Seminar can be found here: http://www.theewc.org/Content/Home/News/Call-for-participants-to-The-Thorvald-Stoltenberg-Seminar.
What are the participation fees? 
There is NO participation fee. The organisers will cover meals and accommodation. The organisers will reimburse travel expenses.
If you have any inquiries, please contact Ingrid Aspelund at i.aspelund@theewc.org.
We wish you success in the application process! 🙂