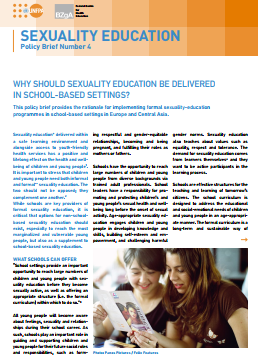 PB-3-4-on-Sexuality-Education
The Federal Centre for Health Education (BZgA) in Germany and the United Nations Population Fund (UNFPA), Regional Office for Eastern Europe and Central Asia jointly developed a series of policy briefs on sexuality education.
The first two issues published in 2015 (also in cooperation with the WHO Regional Office for Europe) have now
been complemented by Policy Brief n° 3 and 4: Policy Brief No. 3 'Introducing Sexuality Education: Key Steps for Advocates in Europe and Central Asia'
provides an overview of the most important steps for the introduction (or revision) of national in-school sexuality-education programmes and reviews of existing resources.
Both policy briefs are also available from following website:
https://www.bzga-whocc.de/en/publications/policy-briefs-on-sexuality-education-new/