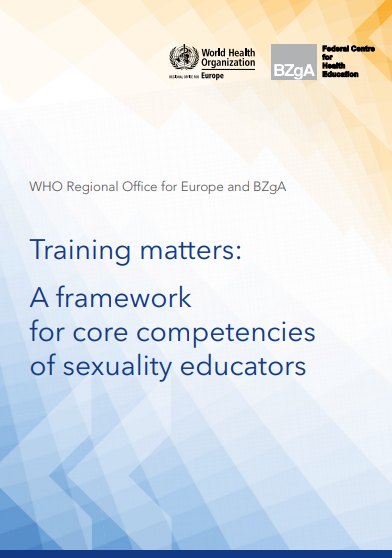 This framework focuses on sexuality educators and the competencies they should have, or develop, in order to conduct sexuality education. Educators'
competencies in the areas of attitudes, skills and knowledge are taken into account and described in detail in Part 2 of this document.
The WHO Regional Office for Europe and the German Federal Centre for Health Education (BZgA), a WHO collaborating centre for sexual and reproductive health, are committed to improving access to, and quality of, sexuality  Throughout this document, the term "sexuality educator" is used instead of "sexuality teacher".  In this area, BZgA and the Regional Office work closely with the European Expert Group on Sexuality Education.
The guideline includes good practices of the training of sexuality educators from the WHO European Region:
Belgium
Bosnia and Herzegovina
Bulgaria
Estonia
Finland
Switzerland
Ukraine
https://www.bzga-whocc.de/fileadmin/user_upload/BZgA_Training_matters_EN.pdf