What are  SDGs?
17 Sustainable Development Goals (SDGs) are urgent call for action by all countries – developed and developing- in a global partnership. The 2030 Agenda for Sustainable Development, adopted by all United Nations member states in 2015, provides a shared blueprint for peace and prosperity for people and the planet…
But still, there are a lot of questions about SDGs, children and young people think that "this is something for adults", "this is something hard for us" but SDGs are for everyone and each of us can support them, even Smurfs.
For better understanding and positive vibes, Smurfs made campaign with United Nations, UNICEF and the United Nations foundation. Amazing Smurf characters are encouraging young people and adults to make the world happier, peaceful, equitable and healthy.
Who are The Smurfs?
The Smurfs are worldwide famous small, blue, human-like creatures who live in a mushroom-shaped houses in the forest. The Smurfs was first created and introduced as a series of comics characters by the Belgian comics artist Peyo in 1958 and The Smurfs franchise expanded into advertising, films, TV series, ice capades, video games, theme parks, dolls.
Everyone loves Smurfs!
The "Small Smurfs Big  Goals" campaign is designed to encourage everyone to learn about and support the 17 Sustainable Development Goals which are agreed by all 193 member countries of the United Nations in 2015.
"We know that children and young people are some of the world's most passionate advocates on issues that matter to them the most. We must continue to find new ways to empower them to help achieve a world free from inequality and injustice for every child. "said UNICEF Director of Communications Paloma Escudero.
"Every one of us can make a difference, regardless of our size"said Veronique Culliford, the daughter of Peyo, who created the smurfs in 1958.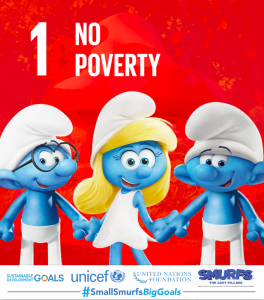 SUSTAINABLE DEVELOPMENT GOAL 1
End poverty in all its forms everywhere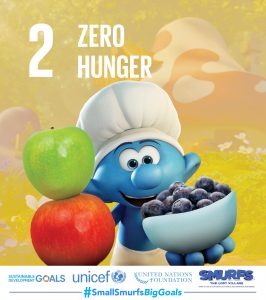 SUSTAINABLE DEVELOPMENT GOAL 2
End hunger, achieve food security and improved nutrition and promote sustainable agriculture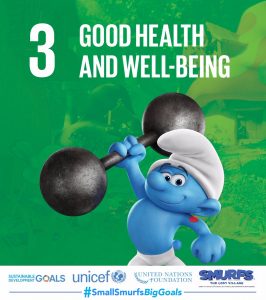 SUSTAINABLE DEVELOPMENT GOAL 3
Ensure healthy lives and promote well-being for all at all ages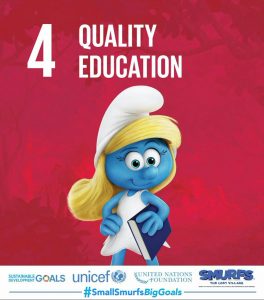 SUSTAINABLE DEVELOPMENT GOAL 4
Ensure inclusive and equitable quality education and promote lifelong learning opportunities for all
SUSTAINABLE DEVELOPMENT GOAL 5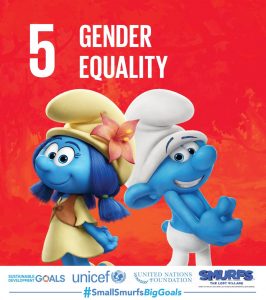 Achieve gender equality and empower all women and girls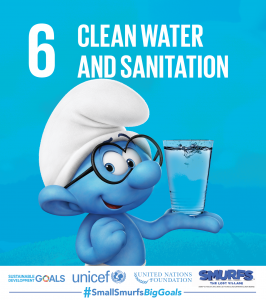 SUSTAINABLE DEVELOPMENT
GOAL 6
Ensure availability and sustainable management of water and sanitation for all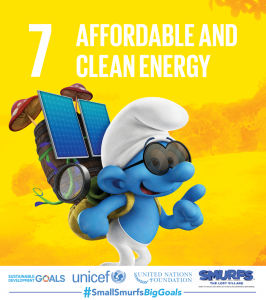 SUSTAINABLE DEVELOPMENT GOAL 7
Ensure access to affordable, reliable, sustainable and modern energy for all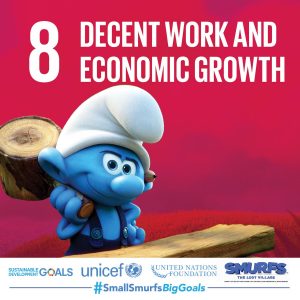 SUSTAINABLE DEVELOPMENT
GOAL 8
Promote sustained, inclusive and sustainable economic growth, full and productive employment and decent work for all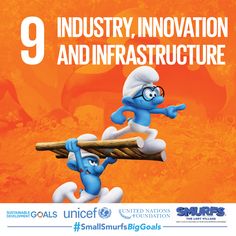 SUSTAINABLE DEVELOPMENT GOAL 9
Build resilient infrastructure, promote inclusive and sustainable industrialization and foster innovation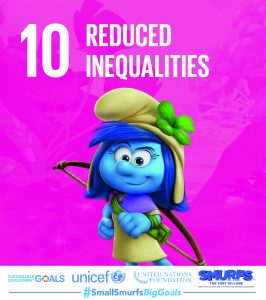 SUSTAINABLE DEVELOPMENT
GOAL 10
Reduce inequality within and among countries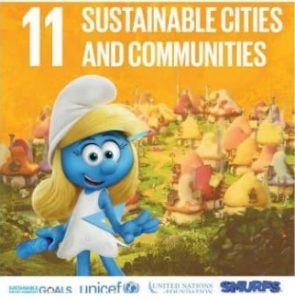 SUSTAINABLE DEVELOPMENT GOAL 11
Make cities and human settlements inclusive, safe, resilient and sustainable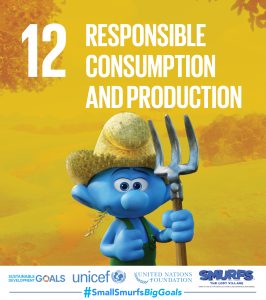 SUSTAINABLE DEVELOPMENT GOAL 12
Ensure sustainable consumption and production patterns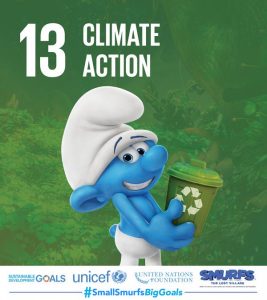 SUSTAINABLE DEVELOPMENT GOAL 13
Take urgent action to combat climate change and its impacts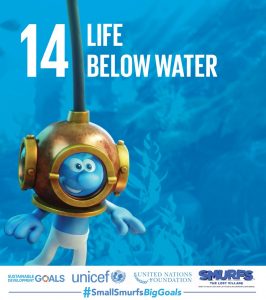 SUSTAINABLE DEVELOPMENT GOAL 14
Conserve and sustainably use the oceans, seas and marine resources for sustainable development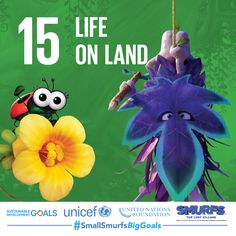 SUSTAINABLE DEVELOPMENT
GOAL 15
Protect, restore and promote sustainable use of terrestrial ecosystems, sustainably manage forests, combat desertification, and halt and reverse land degradation and halt biodiversity loss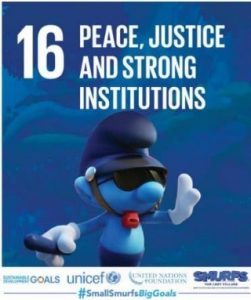 SUSTAINABLE DEVELOPMENT
GOAL 16
Promote peaceful and inclusive societies for sustainable development, provide access to justice for all and build effective, accountable and inclusive institutions at all levels
SUSTAINABLE DEVELOPMENT GOAL 17
Strengthen the means of implementation and revitalize the global partnership for sustainable development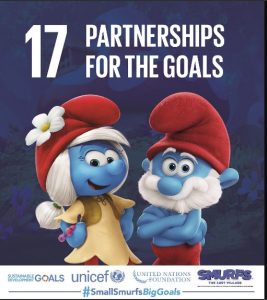 To know more about SDG  and to find out how you can contribute to achieve the Goals visit https://sustainabledevelopment.un.org/?menu=1300, discover which goals are best suited to your interest, raise your voice for a better world, share information and ideas;
For more positive vibes view the UN-Smurfs Partnership Video: