1.    Eastern Europe and Central Asia is the only region in the world where the HIV epidemic has continued to grow rapidly.
Between 2000 and 2015 there was a 57% increase in annual new HIV infections.[1]
2.    The rate of HIV infection is three times higher in Eastern Europe than it is in Western Europe.[2]
Between 2006 and 2012, the number of AIDS cases reported in Western Europe fell by 54% while it rose by 113% in Eastern Europe.[3]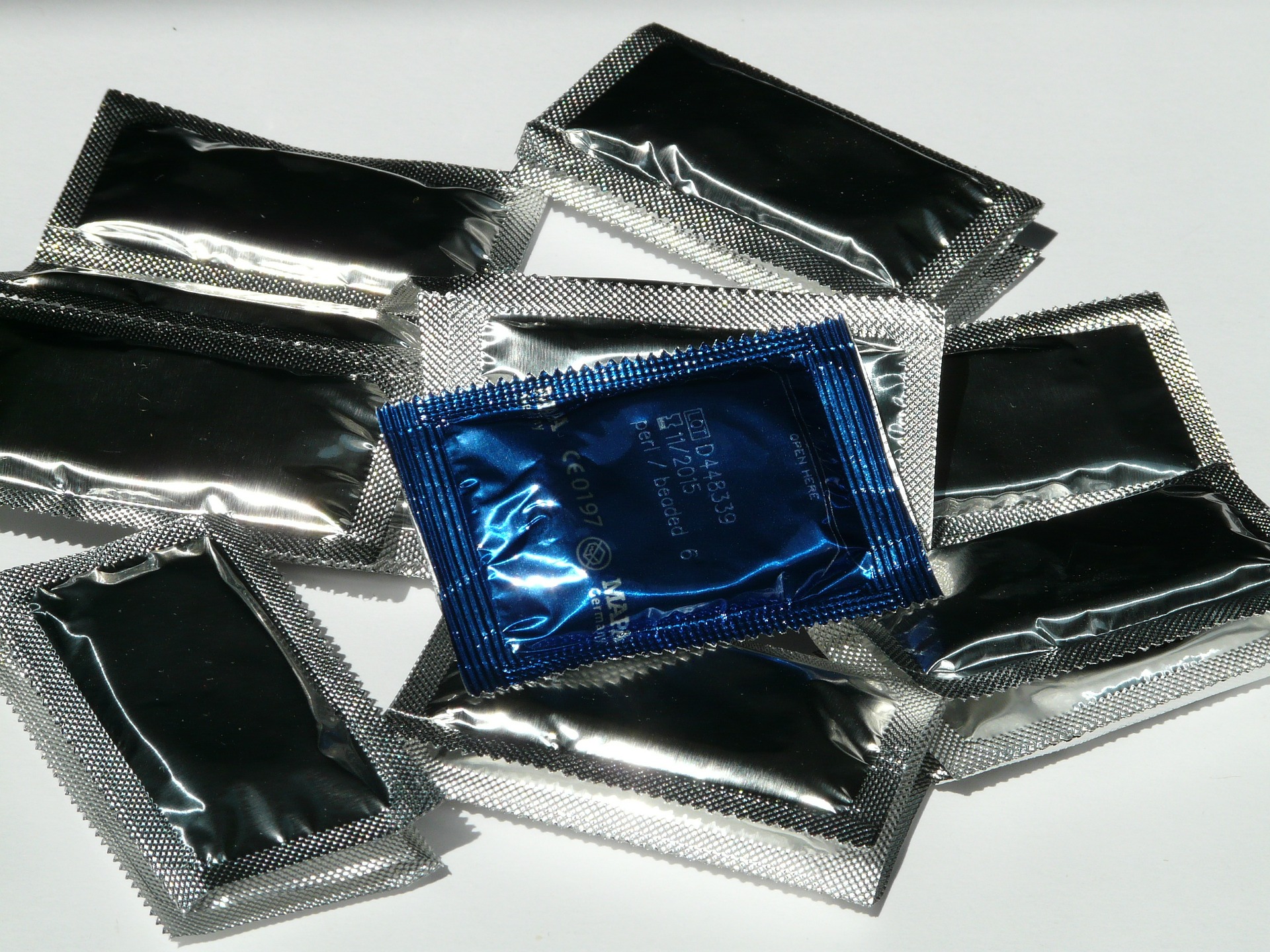 3. In 2010, there was an estimated 1.5 million people living with HIV in Eastern Europe and Central Asia.[4]
4. Up to 50% of new cases of HIV infection are among women in some countries in the EECA Region.[5]

In Russia, the rate of HIV infection is twice as high among women aged 15-24 as it is among men within the same age bracket.[6]
5. Transmission through drug injection and heterosexual intercourse accounts for an increasing number of new HIV infections in Eastern Europe, while in Western Europe, infection remains concentrated amongst men who have sex with men and migrant populations.[7]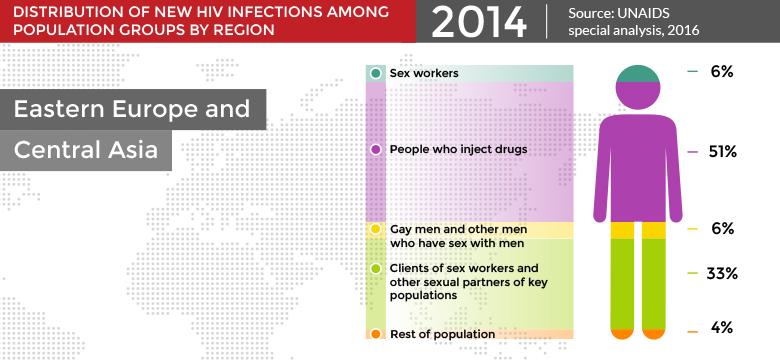 Image by AVERT 2016 – HIV and AIDS in Eastern Europe & Central Asia Overview –  https://www.avert.org/hiv-and-aids-eastern-europe-central-asia-overview
6. Over 80% of people living with HIV in Eastern Europe are under 30, and in Ukraine, 25% are under the age of 20.[8]
7.The Russian Federation has the largest HIV epidemic in Eastern Europe and Central Asia, documenting its millionth case of HIV infection in 2016. Ukraine is the country with the second highest rate of HIV in the region.[9]
8. An estimated 60% of people living in Eastern Europe do not know that they are HIV-positive.[10]  This is largely due to a widespread lack of access to and /or low use of HIV testing and counseling.
9. Progress has been made in certain areas, for example, 88% of HIV-positive pregnant women received mother-to-child prevention treatment in 2010[11].
10. High rates of HIV in Eastern Europe and Central Asia are influenced by limited access to and low utilisation of HIV testing and counseling, inadequate or inexistent comprehensive sexuality education, limited access to contraceptives, and high levels of stigma and misinformation surrounding HIV. These are also fueled by many other complex and interconnected social, economic and political factors.
For more information on the facts about HIV/AIDs, go to Avert, which will provide you with fact files and mythbusters on HIV/AIDS. Avert also offer advice to People living with HIV/AIDS (PLWHA).
UNAIDS also publishes up-to-date information and resources on the fight against HIV/AIDS. It gives visibility to campaigns working to end HIV/AIDS and provides users with updates on the 90-90-90 targets – the aim of which is for 90% of people living with HIV to know their HIV status, for 90% of people diagnosed to be on treatment, and for 90% of people on treatment to  be virally suppressed.
You can also find out more from any of the resources that were used in this article:
Advocacy Entry Points:
UNAIDS Strategy 2016–2021 – one of the first strategies in the United Nations system to be aligned to the Sustainable Development Goals.
The Sustainable Development Goals, Goal 3.3:
'By 2030, end the epidemics of AIDS, tuberculosis, malaria and neglected tropical diseases and combat hepatitis, water-borne diseases and other communicable diseases.'Do some research on your country's national policies and accountability mechanisms to see what steps are being taken to achieve this goal.
Get Involved!
          The 22nd International AIDS Conference (AIDS 2018) will take place in Amsterdam on the 23-27 July 2018. Check out their website to see how you might attend or provide online support!     http://www.aids2018.org/
[1]HIV INCREASINGLY THREATENS WOMEN IN EASTERN EUROPE AND CENTRAL ASIA/UNAIDS
[2]European Action Plan for HIV/AIDS 2012-2015/Euro Who 
[3]European Action Plan for HIV/AIDS 2012-2015/Euro Who 
[4]HIV INCREASINGLY THREATENS WOMEN IN EASTERN EUROPE AND CENTRAL ASIA/UNAIDS 
[5]Gender and Chronic Disease Policy Briefing/Eurohealth
[6]Gender and Chronic Disease Policy Briefing/Eurohealth 
[7]European Action Plan for HIV/AIDS 2012-2015/Euro Who
[8]CLOSING THE GAP ON SEXUAL AND REPRODUCTIVE HEALTH AND RIGHTS IN THE ENLARGED EUROPEAN UNION/ASTRA
[9]HIV AND AIDS IN RUSSIA/AVERT
[10]Gender and Chronic Disease Policy Briefing/Eurohealth 
[11]HIV INCREASINGLY THREATENS WOMEN IN EASTERN EUROPE AND CENTRAL ASIA/UNAIDS