When someone asks me why I am passionate about working against HIV/AIDS?
There is one answer: Because of Freddie
When I was teenager, when I found that Queen was sound of my soul and I used to listen their songs without stop, I was not informed about HIV/AIDS first thing that I learned about it was, that Freddie Mercury died of bronchopneumonia brought on by AIDS.  The feeling of injustice motivated me to inform young people about HIV/AIDS, we never know who the next is.
I can imagine world with Freddie after 1991 and I truly believe that it would be better.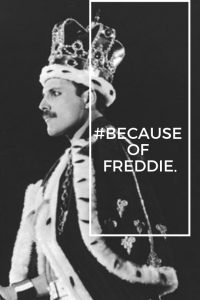 Why #becauseofFreddie?
Freddie Mercury was a British singer, songwriter and producer, best known as the lead vocalist and lyricist of the rock band Queen.
You've probably heard a Queen Song before. I mean, who hasn't heard "We Will Rock You" and "We Are the Champions." "Bohemian Rhapsody" is that interesting piece with the awesome music video. Queen is a British rock band that was active primarily from 1970 to 1995. The band was inducted into the Rock and Roll Hall of Fame in 2001.  They filled arenas and stadiums and killed it. The entire band electrified the crowd. The best example is the Live Aid Concert in 1985, where the band performed for only 20 minutes, but managed to almost have the 72,000 in attendance.
Queen's sound, in general, is unlike others. Freddie Mercury had vocals that are unmatched by any other male artist.
Freddie Mercury kept his HIV diagnosis private for years. The lead singer of Queen died of AIDS complications just days after he publicly announced he was HIV-positive. The Los Angeles Times reported the announcement he made shortly before his death:
"Following the enormous conjecture in the press over the last two weeks, I wish to confirm that I have tested HIV-positive and have AIDS. I felt it correct to keep this information private to date in order to protect the privacy of those around me.
However, the time has now come for my friends and fans around the world to know the truth and I hope that everyone will join with me, my doctors and all those worldwide in the fight against this terrible disease."
He was 45 years old at the time of his death in November 1991. His melodic voice and musical talents, as well as his fight against HIV, continue to inspire me and a lot of his fans to continue fight against this "terrible disease"
Four decades on, HIV remains a frightening reality. Since the first cases of HIV were reported more than 35 years ago, 78 million people have become infected with HIV and 35 million have died from AIDS-related illnesses. While many are living long and healthy lives with the disease, 940 000 people died from AIDS-related illnesses worldwide.
There were approximately 36.9 million people worldwide living with HIV/AIDS in 2017, an estimated 1.8 million individuals worldwide became newly infected with HIV in 2017 – about 5,000 new infections per day.
1st of December is World AIDS Day , this is a day to remember the millions of people who have lost their lives to AIDS-related illnesses, many of whom died because they couldn't access HIV services, because of stigma, because of discrimination and because of criminalization of key populations.
On 1st of December all we can do is to raise our voice against HIV/AIDS & to support HIV positive status, no matter our race, gender, religion, age, profession, interest fields, we need to stand together and continue fight against this "terrible disease" because of Freddie, for Freddie and with Freddie in case to not lose more Freddie, Anthony, Gia…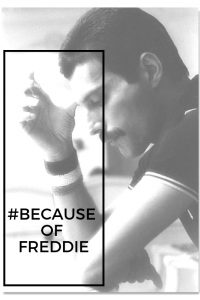 Share the poster/article with hashtag #BecauseofFreddie #worldaidsday #10DOA